F A L L • 2 0 1 6
VOLUME 17, ISSUE 3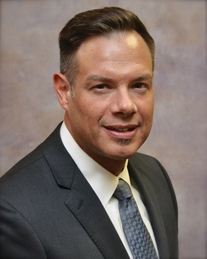 Chris Lee lives in Lincoln, Nebraska with his wife, Carmen, and daughters, Ashlyn and Alyssa. They attend the Lincoln Berean Church. Chris is a self-described "theology junkie" whose mission is to proclaim the unfathomable grace of Christ in a clear, understandable, and Biblical way. Chris is the editor of the Proclamation! Blog at ProclamationMagazine.com. You may contact Chris by email at ambulater@gmail.com.

The church service was barely half over, and I was already squirming thanks to the extra cup of coffee in which I had indulged at breakfast. Slipping past my wife and two daughters to exit the pew, I quietly made my way down the side aisle back toward the foyer, then took the stairs to the lower level in pursuit of the men's room. That's when I saw it. In passing the boiler room, I was riveted by a sinister orange glow dancing through the crack beneath the door. Cautiously easing the door open, I was confronted by a raging fire.
My first instinct was to run, exit from a lower level door, and get as far away from the conflagration as I could. But of course I couldn't leave my family to the flames. Taking a deep breath I headed back upstairs. I have to admit that, as I entered the foyer, I considered discreetly gathering my family and escorting them out without making a ruckus. As odd as it sounds, even though I knew the danger, I felt reluctant to disrupt the service. I could imagine some people being offended and maybe not even believing me.
When it came down to it though, I couldn't just leave my friends, extended family, and loved ones there without even a word of warning. So, I mustered my courage and uttered that word of alarm, "Fire!"
I wish I could say it went well, but it didn't really. A few listened and left with me, but most were as offended as I had imagined. The pastor assured everyone there was no fire, had a few words of admonishment for "trouble makers", and then went back to his sermon. My family, a few friends, and I left the building a bit bewildered as to why others seemed oblivious to their peril.
At that point I just wanted to walk away—I really did—but I couldn't. There were too many people in the church that I cared about too deeply just to shake the dust from my feet. So I called 911 and waited outside for help to arrive. I waited near the church where I could help the survivors who occasionally came trickling out the door and windows. Some were nearly overcome with smoke, emerging scared and scarred. I wrapped blankets around them and escorted them to paramedics.
I wanted to walk away, but I couldn't. I had yelled "fire" and helped others out because it was the right thing to do, because it was the loving thing to do, and because in a sense everyone in that church was my family.
To my Adventist friends, family, and loved ones: I'm still here longing to help and obligated to help. There is a fire in your church. I can't turn my back on those inside. I've been blessed to help many and long to help more. I'm obligated to proclaim what I know and to serve obediently as God gives me opportunity. It's the only loving, faithful way to live the Life After.†
---

Copyright 2016 Life Assurance Ministries, Inc., Camp Verde, Arizona, USA. All rights reserved. Revised November 23, 2016. Contact email: proclamation@gmail.com