F A L L • 2 0 1 6
VOLUME 17, ISSUE 3
---
D E P A R T M E N T S
LETTERS to the Editor

Enjoyed open theism article
We enjoyed the article by Martin Cary on open theism so much. Even as gospel believers, we had held for a long time to some of the wrong views about God without even realizing it. Keep the truth coming.
Ridgway, CO
Intellectually infantile
You can save some money by removing my name from your list. I find your magazine mainly entertaining; it is intellectually infantile, and its biblical interpretations are simplistic and philosophically untenable. And your writers don't have a clue about church history.
Lincoln, NE
Comforting and terrifying
I received a copy of Proclamation!, vol. 17, issue 2, and read it almost cover to cover. Please send another issue. I have been an Adventist my whole life and am 58 years old. I found the issue you sent me to be both comforting and terrifying. On one hand it releases me from legalism, and on the other it tells me that the eternal torture of hell fire awaits those that do not believe.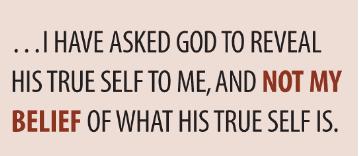 As if I could be happy knowing there are those suffering unimaginable pain while God's chosen experience the joys of heaven!
But I have asked God to reveal His true self to me, and not my belief of what His true self is. I know this from personal experience: every time I have allowed God to take control of a situation in my life, I have never been disappointed (given the advantage of time). Never. Love, grace, mercy, forgiveness, compassion, and patience is my experience with the Creator and Jesus His Son. If what you proclaim is true, I trust God will reveal it to me.
Lindsay, CA
I'll be corrected soon enough
Thank you so much for the magazines. Unfortunately, however, I would like to be taken off the mailing list now. I know that the work you do is very important and helpful to this fallen world we live in, but my beliefs do not fall in line with all of the ones you profess (I hold a non-trinitarian view). If this view is wrong, I will be corrected of my error soon enough (as we do agree in the closeness of the climax of these end times). Thank you again for the two issues I've received.
Butler, PA
Destroying Jonah to save Ellen
When I discuss the false prophetess Ellen G. White with my Adventist friends and family, they invariably argue that if Ellen White is a false prophet, then Jonah was a false prophet, too, since God did not destroy Nineveh after sending Jonah to Nineveh to tell the citizens that God was going to destroy their city.
Let's read what God says through His prophet Jeremiah in Jeremiah18:7-8: "If at any time I announce that a nation or kingdom is to be uprooted, torn down and destroyed, and if that nation I warned repents of its evil, then I will relent and not inflict on it the disaster I had planned."
Now let's look at the story of Jonah. Jonah went to Nineveh and declared that God would overturn the city in 40 days. The king and the city turned from their evil ways! Jonah 3:10: "When God saw what they did and how they turned from their evil ways, he relented and did not bring on them the destruction he had threatened."
Jonah told Ninevah they would be overturned in 40 days. The Ninevites turned from their evil ways. God relented and did not inflict disaster upon the land. Every bit of this story is Biblical and does not make Jonah a false prophet. God kept His word.
It is sad that the Adventist religion must try and tear down true prophets in an effort to lift their false prophet.
Royce Earp, Smyrna, TN
Our walk out of Adventism
In the early 1960s my wife and I began following some young men from the state of Washington who called us to believe there was to be an awakening within Adventism for the purpose of getting ready for the soon coming of Jesus. For around 10 years we studied the Sanctuary doctrine in detail to get ready before probation closed. We were excited and joyful that God had raised up His last day remnant church who would keep His Commandments and stand firm during the final testing over the Sabbath.
Then, in the mid 1970s and early 80s, we enjoyed seminars held by Robert Brinsmead who directed us to re-study the teachings of the Reformation which revealed justification by faith. We soon began to study the gospel found in Romans and Galatians—a gospel we had never studied in Adventist schools. All of a sudden we became excited to see the simple messages of God's finished work of judgment at Calvary.
After Christ's death, burial, and resurrection, He ascended to His Father and sat down. His work was finished, and now, under a new covenant, we could rest in Him alone! Praise God we had to leave Adventism. Their messages were based on old covenant concepts, but we are accepted under the new covenant of God's grace (Heb. 8:13).
Our sins are forgiven, and we are justified, reconciled, and our names are written in the Lamb's Book of Life! We appreciate Proclamation! which reveals these truths and more.
Selah, WA
Corrected text
I have run across your publication and find it refreshing. I have a question, however, concerning an article in the volume 17 issue 2 edition titled "Hell and the Clear Word", page 26. Here the author, Stephen Pitcher, quotes Revelation 19:20 from the English Standard Version (ESV) as follows: "and the devil who deceived them was thrown into the lake of fire and sulfur where the beast and the false prophet were, and they will be tormented day and night forever."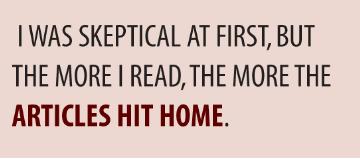 I have searched four different Greek texts—Wescott-Hort, Nestles, the Received Text, and Moffatt's Greek text— and four translations, including the ESV, and cannot find corroboration for the concluding phrase in Mr. Pitcher's version.
It seems to me that Mr. Pitcher's argument relies in part on that concluding phrase. Please explain this discrepancy.
Interim pastor, via email
Editor's response: Thank you for writing. We indeed had a typo in that article. The text that should have accompanied that verse is Revelation 20:10. We apologize for the confusion.
Stealing Adventist sheep
My father has been receiving your magazine by mail, even though he is not aware of having subscribed to it.
Since he is not very savvy with e-mail correspondence or the English language, he has asked me to contact you to cancel his mail subscription to your magazine.
Though my family and I greatly respect your ministry and the journey many of your authors have taken up, we consider ourselves very much Adventist and do not want to associate with nitpickers and waste our time with criticism (which might be well-founded). Rather we want to focus on the social aspect of true Christianity and employ our minds, hearts, and hands in Christ's service.
We are sure that the money you save from cancelling our subscription can be used to steal Adventist sheep elsewhere who are more dissatisfied with the church than we are, and actually have the time to appreciate reading your magazine.
Neu-Ulm, Germany
Throw out the baby with the bathwater
RE: "Hell and the Clear Word", Proclamation!, Summer 2016, p. 21-26.
When are you folks going to wake up to the fact that conditional immortality is NOT considered heretical in many evangelical circles; not by the NAE, not by Gordon Conwell Theological Seminary, nor by [the late] John Stott, to name but one of many evangelical scholars of today? You are throwing out the baby with the bath water!
Melrose, MA
Editor's response: I am aware that conditional immortality is moving into evangelicalism in some quarters. The difference, however, between "regular" conditional immortality and Adventists' view of it is the fact that Adventists don't believe people have immaterial spirits. Conditional immortality is a technical discussion of whether or not people are eternally conscious after death or whether they are burned out of existence in hell.
Adventists, however, say that people are merely bodies plus breath. This idea that man is only physical has implications far beyond the idea of conditional immortality; it reaches into the nature of the Lord Jesus Himself and the nature of sin and salvation.
While I do not believe that conditional immortality is the teaching of Scripture, I believe that Adventism's hiding behind that label to obscure their true belief that man is merely a body that breathes is deceptive and disingenuous.
Damaging people
I will begin by saying God loves you. I am an Adventist and believe in Christ. I have been following with keen interest your discussions about the faith. I generally feel that you grew up as Adventists and you never really repented and accepted Christ or had an experience with Christ. You were just conforming to what your families have taught you. I am certain that the world is nearing its end, and the Three Angels' Messages need people like you to spread the gospel of Christ to the world. Christ has admonished us to love one another, and I don't see that in your message.
It is my humble prayer that one day you see the light and go back before it is too late. You don't understand the amount of damage you have caused people out there. They view Christ as not requiring anything because of your teachings. Please stop doing this.
via email
I married an Adventist
Please pray for me and my family. I married a Adventist eight years ago. She is Adventist from birth but hasn't always toed the line. I have shown her direct contradictions of the writings of her prophet and the Bible. She defends her at all costs, and her mother and her church tell her what EG White meant to say. I have been pulling my hair out over this! They come up with their own rules and follow only certain Scriptures as well as the rules their prophet has laid down as being from God. As far as reading the Bible together, it's useless. She reads through the lens of EG White. I am so frustrated! We have five and seven-year-old daughters that I am very concerned about. We cannot ever discuss any beliefs without getting into arguments and making tension in the house for everyone. I get nauseous if my wife takes them to "Sabbath school" or to the Adventure club. I didn't know anything about Adventism but now wish I had researched it thoroughly. My decision would have been different eight years ago. Thank you for any help.
Maynardville, TN
Articles hit home
My wife and I spent 40 years as members of the Adventist church (we are no longer members). I held the offices of head elder and deacon, and my wife held many offices also. Over the years we began to learn that many of the 28 Fundamental Beliefs were not in harmony with what the Bible said. When we would bring up a question or present a different view on a subject, we were told, "That's not what Ellen White said about it."
Along came Proclamation! magazine. I was skeptical at first, but the more I read, the more the articles hit home.
We withdrew our membership from the Adventist church a few weeks ago, and we cannot tell you of the relief we have found as we trust in Christ's righteousness and not a bunch of rules! We are attending a local non-denominational Sunday church and love the fellowship and Christ-centeredness of the messages.
Thanks so much for the work you and your people are doing.
Galeton, PA
Narcissistic Adventists?
I admire what you are doing to help people. One thing that bothers me about cults like the Adventist church is the question of why they have such control over people's minds….
An Adventist has told me that I am not saved and will not be in God's kingdom because I now attend a church on Sunday. Her insults to me show she thinks she knows best, and that I am too stupid to know the true church. This attitude seems typical of a narcissistic person.
Since the Adventist church is totally based on legalistic works, it does not have grace. People without grace have no compassion.
I sensed the Holy Spirit was lacking in the Adventist church when I was a member. I am thankful God had mercy on me and led me out and into a living church.
via email
---

Copyright 2016 Life Assurance Ministries, Inc., Camp Verde, Arizona, USA. All rights reserved. Revised November 23, 2016. Contact email: proclamation@gmail.com