January February March 2011
VOLUME 12, ISSUE 1
---
D E P A R T M E N T S
LETTERS to the Editor
Thanks for exposing false teaching

I just finished reading the latest issue of the magazine—fantastic! I can hardly wait for the next issue; Dr. Talbot's articles are well done and so "right on". It has been 10 years since I made my exodus out of Adventism, with the help of loving family and of course, the Spirit of Truth. I appreciate all the effort, time and resources that the team at the magazine puts forth. It is a huge undertaking, but I am so encouraged to see how God keeps things moving forward even in these difficult financial times. It is heart-warming to read the comments made by other readers who are studying the Word for themselves and allowing the Holy Spirit to be the teacher. I am deeply saddened by the vengeful comments of those who hide behind false teachings, fearing to examine God's plain Word for themselves. I continue to pray for them as well, that the truth of God's Word will set them free to know they are saved and able to walk in God's abundant grace.
Thank you for continuing to expose false teaching and for encouraging readers like myself to seek the truth. God is faithful and He will keep blessing those who seek Him with all their hearts.
Crescent Mills, CA
Touching many people
Thanks so much for your hard work and devotion for Proclamation! magazine. It is such an important work and touches so many people. It has been such a blessing to me! Do not become discouraged with the nasty letters you often receive. God is working mightily through you.
Redlands, CA
Looking forward to learning
I have come out of the Seventh-day Adventist group. I was a member since 1973 but left the church in 1994 and have really not been able to go back. I was living outside of God's will for my life for about 15 years, and then a couple years back I began earnestly seeking the truth. I was not comfortable going back into the Adventist church because every time I entered one of the Adventists' churches there was much oppression…I just visited [some friends] and they gave me [a back issue of] your magazine which answered my longing to know the truth about death…Thank you, thank you for printing the truth so plainly that I could understand and see. …
I am learning so much and look forward to learning more with your publications. How could we have been so blind and not seen these errors? I am so grateful that God has lifted the veil from my eyes and I can see now!
Eugene, OR
You will persecute us
It is very sad to read your magazine and all the lies you are printing. People are believing your lies. That's the saddest part.
Why don't you pick on other religions instead of picking on the Adventist religion? You have nothing good to say about Ellen White or the Adventist church. You are the ones who are going to persecute us. Who are you to judge, anyway?
We do not wish to receive your magazine; please do not send it anymore. Please find somebody else to criticize and leave the Adventist people and the Adventist church alone! You are being used by Satan to plant weeds in God's garden.
Peralta, NM
Compromising the gospel?
For several years I have read each Proclamation! received. Every issue has been read cover to cover…As a result of our spiritual journey, in 2003, my wife and I left Adventism and joined another denomination. After visiting several churches we became members of a denomination that encourages its members to grow in their personal relationship with Christ. Belief in and acceptance of Jesus as their Savior is the only requirement for acceptance into their fellowship.…
My wife and I have been sending Proclamation! to our daughter for the last three years. The words she used were that Proclamation! was becoming "dismissive and patronizing". In its eagerness to distance itself from Adventism, is Proclamation! in the process of throwing out the baby with the bath water?
Proclamation! has taken a strong position on some issues, per my understanding of the Bible, that compromise the core gospel message—specifically, the concept of a loving God causing eternal suffering in hell to those that choose not to follow Him. I can think of no reason, and I have studied a few, that justifies eternal torment.…Another topic that Proclamation! has taken a strong stand on is the idea that Christ could not fail when He was tempted. Again, there are scholars citing Scripture that disagree.…As long as Christianity clings to the belief of an eternally burning hell their spiritual filtering system, to a greater or lesser degree, will be clogged with fear.…
Remember when we had all the knowledge? How much growing did we do?…
I do not have to agree with every article that Proclamation! prints. However, I would like to see a more balanced approach. This is especially true with articles that reflect on the character of our Savior.…
"In essentials, unity; in opinions, liberty; in all things, love" (early Christian slogan adopted by Stone-Campbell churches). The essential is Jesus Christ as our Lord and Savior. Another essential is the individual priesthood of all believers with all the implied freedoms and responsibilities.
Lansing, MI
Editor's comments
Leaving Adventism does not mean we leave authority. Rather, we now place ourselves under the authority of God's word instead of the authority of a modern prophet and a denomination. We are not free to decide what we will believe; instead, in Christ we are finally free to know and submit to Scripture.
Before we can address whether or not a belief compromises the gospel, we must identify the gospel. 1 Cor 15:1-4 articulates the gospel this way: "For I delivered to you as of first importance what I also received: that Christ died for our sins in accordance with the Scriptures, that he was buried, that he was raised on the third day in accordance with the Scriptures…"
The points that you raise regarding eternal hell and the nature of Christ require us to address the foundation upon which we form doctrine: the reliability of Scripture. Liberal theologians view Scripture not as the inerrant word of God but as a more symbolic record of man's historic perceptions of God. Life Assurance Ministries holds a conservative evangelical view of Scripture: it is the word of God, inerrant in its original manuscripts, breathed by God as He moved men to write, and completely reliable as His revelation of Himself and His will.
Because we believe Scripture is completely reliable, we must take seriously that Jesus Himself taught the reality of eternal hell more than any other person. Our evaluation of this doctrine cannot be based on our finding a reason for hell (at any rate we are finite and unable to see eternal reality) but upon the fact that God's word declares it is true.
Scripture also teaches that the fullness of deity dwelt in Jesus (Col. 1:19; 2:9). He shared our flesh and blood (Heb. 2:14), but there was no sin in Him. He is the Lamb of God who takes away the sin of the world (Jn. 1:29)—something only God can do. Unlike we who are born spiritually dead (Eph. 2:1-3) and must be born again (Jn. 3:3-6), Jesus was conceived by the Holy Spirit and was born spiritually alive. Jesus said of Satan, "He has nothing in Me; but so that the world may know that I love the Father, I do exactly as the Father commanded Me" (Jn. 14:30-31).
Because Jesus had no sin in His flesh, Satan had no claim on him. Moreover, Jesus only did what the Father told Him to do. Because of His intrinsic spiritual life, his lack of sinful tendencies, and because He was God the Son and only did His Father's will, He was not able to fail in His mission. Jesus could only be our Savior if He was greater than we are, if He could become sin for everyone (1 Cor. 15:21), and defeat death by the life that was in Him (Jn. 10:17-18).
The gospel is not compromised by biblical teaching. Rather, it is compromised when we fail to take God's word seriously and thus misunderstand Jesus and who He really is.
Nothing Christ-centered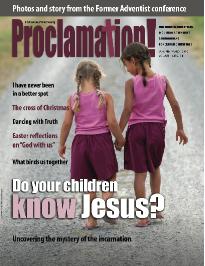 Please, little children, I have been receiving your publication called Proclamation! for a couple of years. I never requested nor asked to have it sent to me. I have yet to find anything that is Christ-centered. Nothing to uplift the name of our Savior Jesus Christ. All I have found is criticizing, judgment, and outright lies. Yes, you may have found a following and many folks who have not understood salvation by faith, but look for yourselves in the Holy Scriptures and you will find that nowhere does it authorize you to be my judge or anyone else's.
There is sufficient time for repentance. Please consider it. Remember that the old accuser is Satan. Is this your goal? It is my prayer that you see the light.
Slidell, LA
Lingering Bitterness
Please remove me from your mailing list. I grew up in the Adventist church and was baptized while in junior high. In my senior year at an Adventist academy, one of my teachers introduced me to the joys of a wonderful relationship with Jesus Christ. For years after, while attending SDA institutions of higher learning, teaching at SDA schools, and then working for another religious denomination but staying very active as an SDA, I came to realize that I do not subscribe to many SDA key doctrinal beliefs. Nevertheless, so many Adventists have been good to me over the years, and I had so many good experiences, that I am able to move on without the lingering bitterness reflected in your publication. Undoubtedly, others benefit from your magazine, so please save the expense and drop my name from the list.
Via email
Editor's note
One of the most common criticisms directed toward former Adventists who left for the sake of Jesus is that we are bitter and angry. Nothing could be further from the truth. Because we love Adventists, we want them to understand that Adventism opposes Christ's finished work and undermines the authority of Scripture. We cannot look the other way knowing that they do not live in the freedom of the gospel and the security of salvation. Our desire is that Adventists will come to know the miracle of new birth and the joy of following Jesus no matter the cost.
Satan is working through you
How can you publish such material as you do and hurt our Lord Jesus, who died on the cross for each of us so that we can be saved in the kingdom prepared for us, if we so choose? My husband is not an Adventist and probably never will be since he has been in contact with some of your group, and this is very sad to me as he is a good man and I know he loves the Lord. But Satan is working through you to publish false information with terrible accusations, which would discourage anyone who is not well-grounded in the Truth. Apparently this is just what you would like to see happen.
It is my prayer that each of you will humble yourself before the Lord and repent of this sinful thing you are doing and come back into the fold before it is forever too late. The "Spirit shall not always strive with man" (Gen. 6:3), and we need to yield our all to Him now while we have time.
Shreveport, LA
Weighed…
You have been weighed and found wanting.
Via email
Released
Your ministry has released me from guilt about the Sabbath.
Centerville, OH
Thank you for your sacrifice
I look forward to every issue of Proclamation! The articles feed my soul and affirm and add to my growing thirst for more of God's truth in my life. I was raised a fourth generation Adventist. Your magazine confirms my own struggle to cleanse my mind of the falsehoods learned during 50 years in that organization. Thank you so much for your sacrifice in bringing this to us. I will be going to your website to make a donation.
Durand, MI †
---

Copyright 2011 Life Assurance Ministries, Inc., Casa Grande, Arizona, USA. All rights reserved. Revised April 4, 2011. Contact email: proclamation@gmail.com